| | |
| --- | --- |
| Posted on September 21, 2017 at 5:15 PM | |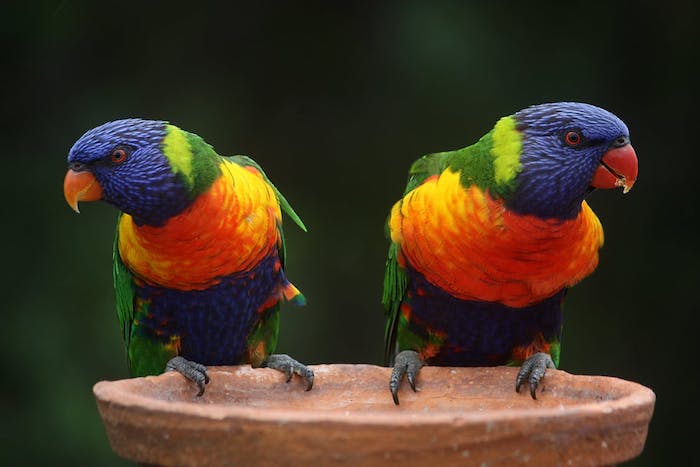 Rainbow Lorikeets and other honeyeaters feed mainly on nectar from flowers.Their diet is complex, they rely mainly on the necter, but they also supplement their diet with protein from pollen and insects. Never feed honey or sugar mixes to lorikeets as it reduces their intake of nectar, their digestion system cannot cope with processed sugars, seed, or bread. Lorikeets quickly become undernourished and this makes them far more susceptible to disease.
Seed-eating parrots like the Rosellas, Sulphur Crested Cockatoos, Galahs, require a variety of seeds and plant material in their diet. The feeding of sunflower seeds has resulted in many of these birds becoming dependant on humans. This dependancy causes an imbalance in their diet and behaviour, suffering a nutritional imbalance and becoming increasingly aggressive. Instead of relying on neater as their main food source, supplemented diets often result in poor bone and feather development, and this can become a serious problem reducing their life expectancy and their ability to fly.
Sulphur Crested Cockatoos suffer beak and feather disease, particularly in the Sydney area. This highly contagious disease cannot be cured, it causes feather loss and an increase in beak size that impacts their ability to eat, this leads to malnutrition and premature death. 
Aside from the impact of feeding these birds, they can become a pest very quickly as their dependancy on humans grows. If your not home to feed them they will destroy almost anything you've left on your deck including furniture.
Kookaburras, Magpies, Currawongs and Butcher Birds mostly eat meat, but not beef or mince meat. They digest whole spiders, mice and cockroaches including the fur, bones and organs that are rich in vitamins, minerals and essential dietary fibre needed for healthy growth. Beef does not provide the calcium these birds need in their diet, a lot of these birds that end up in care are suffering a calcium deficiency. Humans are too often the cause of dietary imbalance that upsets the balance of nature. An over-abundance of Kookaburras, Magpies, Currawongs and Butcher Birds causes a reduction in the number of small birds, thats why we rarely see Blue Wrens and Finches in our gardens anymore and this may be directly due to the over population of these larger birds.
"By welcoming king parrots, rosellas or lorikeets to your house for feeding, you are serving up a diet of junk food, and reducing their ability to forage for food, authorities warn." - ABC Illawarra by Just Hunstdale.

Please consider the Native wildlife as an entire eco-system. Before you make a regular habit of supplementing their diet or feeding the birds for your own pleasure. Consider that this can cause a massive disruption to multiple bird species, and sadly it leads to much cruelty and suffering when simply feeding our native birds.
RESOURCES:
ABC Why you should stop feeding Native birds in your garden
www.abc.net.au/news/2016-01-27/why-you-should-not-feed-native-birds/7118192
Categories: Backyard Projects, Garden Maintenance, Lawn Care