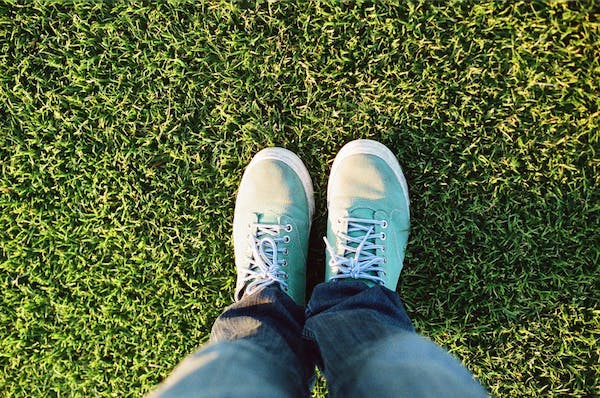 The soil can become compacted and this can be due to an increase in shade typically during the colder months, then there is constant wear in high-traffic areas or a lack of water and nutrients. These are the two biggest reasons for needing to replace your lawn. It is generally cheaper to replace your lawn than to consider other options like paving an outdoor area or maintaining decking. Choosing the right type of lawn is essential if you want to get the best return on your investment when it comes to lawn care. Even the most cared for lawns at some stage become patchy and in need of TLC so don't dispare!
Three things to consider before replacing your lawn:
1. Choose the right type of lawn for your location and the position.
2. Consider the soil, is it in need of fertiliser and have you checked the pH.
3. Do the ground work first, check the drainage and consider the high traffic zones that may require and alternative solution.
Preppartion is the key. Ensure that you get these three tips right before laying a new lawn and remember that he older the lawn gets, the more problematic any issues will be so make sure you consider the tips above and come up with the best solution to prevent issues like high traffic wear, soil compaction and poor drainage.
With good preparation you can extend the lifespan of your lawn and improve the quality. Lawn Solutions Australia recommends calling in an expert to make the right choice for the type of lawn for your property. "Getting the lawn type right is probably one of the main considerations and can amount to only a few percent difference price-wise in the overall scheme of things." - Lawn Care Australia.
Resources:
www.lawnsolutionsaustralia.com.au/blog/thinking-of-replacing-your-lawn-follow-these-4-expert-tips-for-best-results/
www.bunnings.com.au/hortico-200g-shady-lawn-repair_p2990017
Save
Save

Looking for an adventure these school holidays?
Why not take the family on a country drive and explore Sydney's local growers markets and farms where you can pick your own produce. Harvest Trails and Markets exists to keep farmers in the Sydney basin farming. As a not-for-profit community incorporated organisation, HTM helps connect producers directly with consumers to give growers an alternative distribution channel to the central market. Harvest Trails and Markets began as Hawkesbury Harvest in 2000 by a small group of passionate people from a diverse range of backgrounds. As different as they were, they were united by a love of the Hawkesbury region and its agricultural heritage. Hawkesbury Harvest was a way to promote healthy diets, to spread the word about the abundance of locally produced food, the seasonal beauty of the area and the importance of keeping agriculture – particularly food production – in the Sydney Basin. Visit: http://www.harvesttrailsandmarkets.com.au to find out more and plan your country adventure.

Bring the country to the city and plant a vegie garden today.
It's super easy to grow your own herbs, lettuce, beans, spinach and fruits like passionfruit, lemon, lime, oranges and tomatoes. You don't need a big backyard, but you will need half a dozen pots or large containers to grow your fresh produce in. Recycling bins are a favourite for many, built tough with drainage holes they do make the perfect growing tub. Plan to plant on mass, one type of produce per container works best. If possums or birds are a pest to your vegetable garden you can buy a mesh cover for $20 from bunnings, whack in a few garden stakes to keep the net from squashing your produce and leave on 24/7 or cover at night. Growing herbs like parsley, mint, thyme, corriander, basil or lemongrass is a great place to start. You can do a mixed tub of herbs or a full tub of lettuce. As long as you water your produce daily and place them in a position where they can get atleast half the day in the sun, you'll soon have your own pesticide free produce to cook with.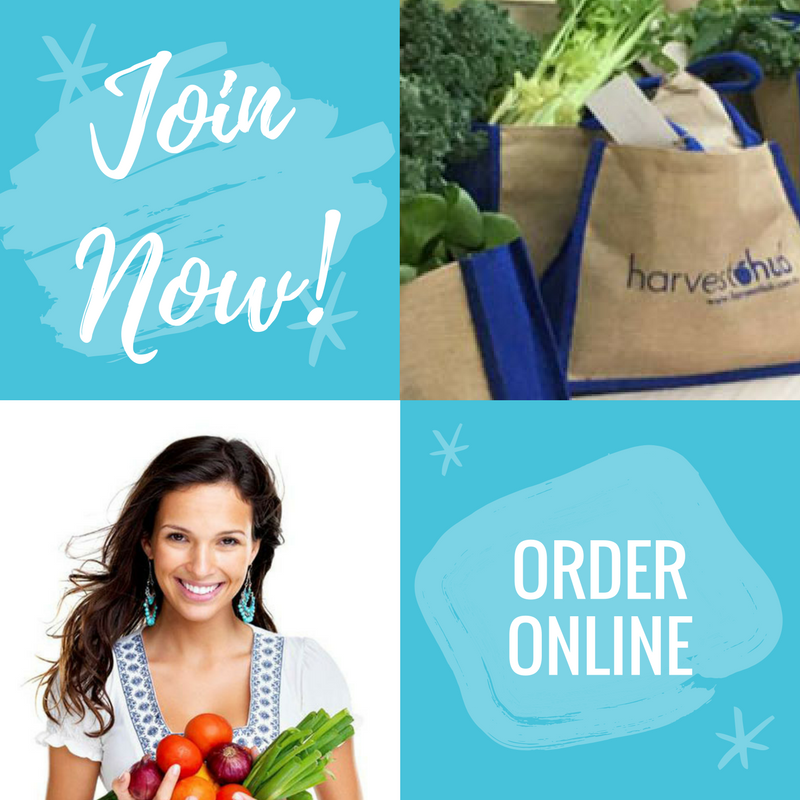 Join Harvest Hub: buy local and eat great food that doesn't cost the earth! Carl is the local Harvest Hubster for offshore PIttwater residents delivering weekly to the western foreshores of Pittwater.
Contact Carl now on 0447 507 915 or visit harvesthub.com.au and join now. There is a fee on the first order placed with Harvest Hub, but Carl is generously offering the first delivery for free so when you pay $15 to join Harvest Hub, you'll save $10 on the first delivery making the joining fee just $5. Visit the website to view the awesome range of fresh produce from fresh fruit and vegetables to sourdough breads and free range eggs.
"During the growing seasons, over 70% of our fresh produce comes from the Sydney basin. Harvest Hub is a Social Enterprise connecting the grower with the end user, you, by offering freshly picked, seasonal produce & groceries to local Food Hubs across Sydney. Most produce is grown in the Sydney Basin by small non-industrialised growers. There is a range of pesticide-free, organic, some mainstream produce and groceries" - Harvest Hub.
Harvest Hub prides itself on distributing fresh produce through an expanding network of Food Hubs that empower communities to take control of their food supply reducing packaging, food miles, chemical inputs and their reliance on big supermarkets.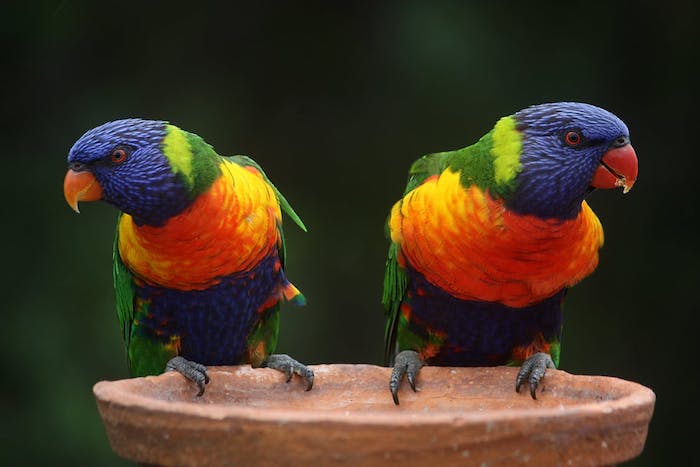 Rainbow Lorikeets and other honeyeaters feed mainly on nectar from flowers.Their diet is complex, they rely mainly on the necter, but they also supplement their diet with protein from pollen and insects. Never feed honey or sugar mixes to lorikeets as it reduces their intake of nectar, their digestion system cannot cope with processed sugars, seed, or bread. Lorikeets quickly become undernourished and this makes them far more susceptible to disease.
Seed-eating parrots like the Rosellas, Sulphur Crested Cockatoos, Galahs, require a variety of seeds and plant material in their diet. The feeding of sunflower seeds has resulted in many of these birds becoming dependant on humans. This dependancy causes an imbalance in their diet and behaviour, suffering a nutritional imbalance and becoming increasingly aggressive. Instead of relying on neater as their main food source, supplemented diets often result in poor bone and feather development, and this can become a serious problem reducing their life expectancy and their ability to fly.
Sulphur Crested Cockatoos suffer beak and feather disease, particularly in the Sydney area. This highly contagious disease cannot be cured, it causes feather loss and an increase in beak size that impacts their ability to eat, this leads to malnutrition and premature death. 
Aside from the impact of feeding these birds, they can become a pest very quickly as their dependancy on humans grows. If your not home to feed them they will destroy almost anything you've left on your deck including furniture.
Kookaburras, Magpies, Currawongs and Butcher Birds mostly eat meat, but not beef or mince meat. They digest whole spiders, mice and cockroaches including the fur, bones and organs that are rich in vitamins, minerals and essential dietary fibre needed for healthy growth. Beef does not provide the calcium these birds need in their diet, a lot of these birds that end up in care are suffering a calcium deficiency. Humans are too often the cause of dietary imbalance that upsets the balance of nature. An over-abundance of Kookaburras, Magpies, Currawongs and Butcher Birds causes a reduction in the number of small birds, thats why we rarely see Blue Wrens and Finches in our gardens anymore and this may be directly due to the over population of these larger birds.
"By welcoming king parrots, rosellas or lorikeets to your house for feeding, you are serving up a diet of junk food, and reducing their ability to forage for food, authorities warn." - ABC Illawarra by Just Hunstdale.

Please consider the Native wildlife as an entire eco-system. Before you make a regular habit of supplementing their diet or feeding the birds for your own pleasure. Consider that this can cause a massive disruption to multiple bird species, and sadly it leads to much cruelty and suffering when simply feeding our native birds.
RESOURCES:
ABC Why you should stop feeding Native birds in your garden
www.abc.net.au/news/2016-01-27/why-you-should-not-feed-native-birds/7118192