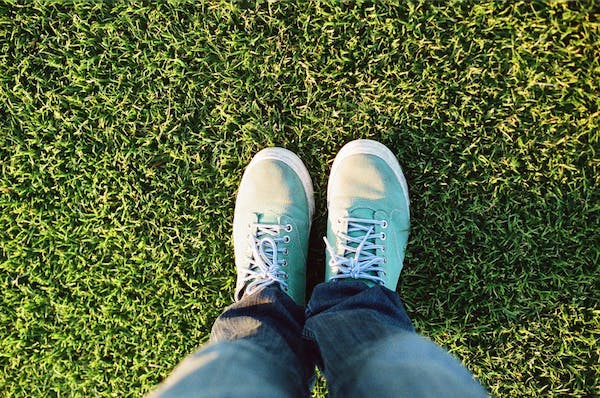 The soil can become compacted and this can be due to an increase in shade typically during the colder months, then there is constant wear in high-traffic areas or a lack of water and nutrients. These are the two biggest reasons for needing to replace your lawn. It is generally cheaper to replace your lawn than to consider other options like paving an outdoor area or maintaining decking. Choosing the right type of lawn is essential if you want to get the best return on your investment when it comes to lawn care. Even the most cared for lawns at some stage become patchy and in need of TLC so don't dispare!
Three things to consider before replacing your lawn:
1. Choose the right type of lawn for your location and the position.
2. Consider the soil, is it in need of fertiliser and have you checked the pH.
3. Do the ground work first, check the drainage and consider the high traffic zones that may require and alternative solution.
Preppartion is the key. Ensure that you get these three tips right before laying a new lawn and remember that he older the lawn gets, the more problematic any issues will be so make sure you consider the tips above and come up with the best solution to prevent issues like high traffic wear, soil compaction and poor drainage.
With good preparation you can extend the lifespan of your lawn and improve the quality. Lawn Solutions Australia recommends calling in an expert to make the right choice for the type of lawn for your property. "Getting the lawn type right is probably one of the main considerations and can amount to only a few percent difference price-wise in the overall scheme of things." - Lawn Care Australia.
Resources:
www.lawnsolutionsaustralia.com.au/blog/thinking-of-replacing-your-lawn-follow-these-4-expert-tips-for-best-results/
www.bunnings.com.au/hortico-200g-shady-lawn-repair_p2990017
Save
Save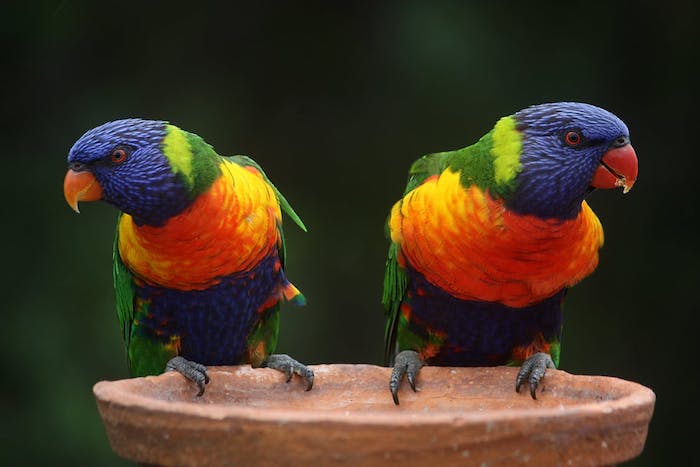 Rainbow Lorikeets and other honeyeaters feed mainly on nectar from flowers.Their diet is complex, they rely mainly on the necter, but they also supplement their diet with protein from pollen and insects. Never feed honey or sugar mixes to lorikeets as it reduces their intake of nectar, their digestion system cannot cope with processed sugars, seed, or bread. Lorikeets quickly become undernourished and this makes them far more susceptible to disease.
Seed-eating parrots like the Rosellas, Sulphur Crested Cockatoos, Galahs, require a variety of seeds and plant material in their diet. The feeding of sunflower seeds has resulted in many of these birds becoming dependant on humans. This dependancy causes an imbalance in their diet and behaviour, suffering a nutritional imbalance and becoming increasingly aggressive. Instead of relying on neater as their main food source, supplemented diets often result in poor bone and feather development, and this can become a serious problem reducing their life expectancy and their ability to fly.
Sulphur Crested Cockatoos suffer beak and feather disease, particularly in the Sydney area. This highly contagious disease cannot be cured, it causes feather loss and an increase in beak size that impacts their ability to eat, this leads to malnutrition and premature death. 
Aside from the impact of feeding these birds, they can become a pest very quickly as their dependancy on humans grows. If your not home to feed them they will destroy almost anything you've left on your deck including furniture.
Kookaburras, Magpies, Currawongs and Butcher Birds mostly eat meat, but not beef or mince meat. They digest whole spiders, mice and cockroaches including the fur, bones and organs that are rich in vitamins, minerals and essential dietary fibre needed for healthy growth. Beef does not provide the calcium these birds need in their diet, a lot of these birds that end up in care are suffering a calcium deficiency. Humans are too often the cause of dietary imbalance that upsets the balance of nature. An over-abundance of Kookaburras, Magpies, Currawongs and Butcher Birds causes a reduction in the number of small birds, thats why we rarely see Blue Wrens and Finches in our gardens anymore and this may be directly due to the over population of these larger birds.
"By welcoming king parrots, rosellas or lorikeets to your house for feeding, you are serving up a diet of junk food, and reducing their ability to forage for food, authorities warn." - ABC Illawarra by Just Hunstdale.

Please consider the Native wildlife as an entire eco-system. Before you make a regular habit of supplementing their diet or feeding the birds for your own pleasure. Consider that this can cause a massive disruption to multiple bird species, and sadly it leads to much cruelty and suffering when simply feeding our native birds.
RESOURCES:
ABC Why you should stop feeding Native birds in your garden
www.abc.net.au/news/2016-01-27/why-you-should-not-feed-native-birds/7118192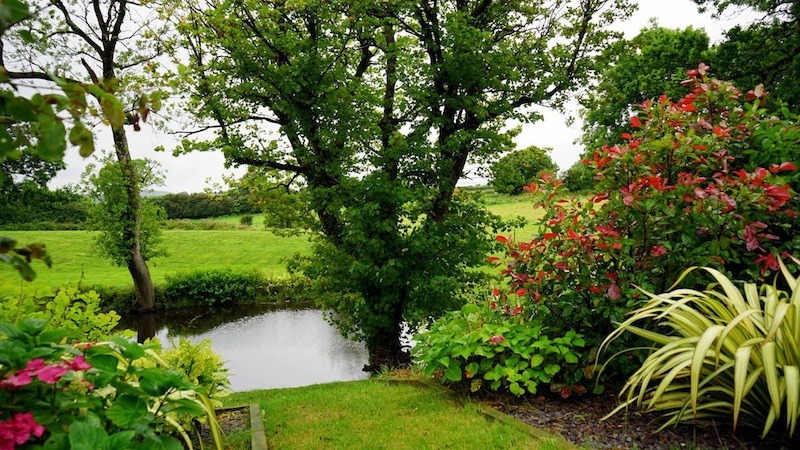 What is greywater? Greywater is reusable water from your shower, laundry, bath and basins. There are many ways to recycle greywater from your laundry, shower and kitchen sink so why not take advantage of this? Recycling greywater back into the environment is easy, you just need a holding tank or keep it really simple and let the water distribute directly into your garden. The plants in your garden can be used to filter the greywater, but there are a few things that you should know so that you can keep it eco-friendly and re-use greywater safely.
Reusing grey water is a low cost and low maintenance way to keep your lawn looking green. There is no need to have a treatment system as such, as long as you only use earth-friendly products that contain plant based surfactants that are water soluble. Look for laundry products, dish washing liquid and cleaning agents that have no or low phosphates. If re-using your bath or shower water, choose plant based products that do not contain synthetic chemicals like parabens that are not 100% water soluble. Parabens are not good for your skin and hair either, dermatologists advise that parabens damage the skin's lipid barrier leaving it suceptable to eczema and skin irritation so do yourself a favour and choose plant based bath and shower products.

Chosing plant-based products is key to re-cycling grey water back inot your eco-garden.
How does it work? To keep it nice and easy, you'll want to re-direct your bathroom and kitchen water using one or more hoses that allows the grey water to be distributed directly into the garden without collecting it a holding tank. By simply watering the garden every time you have a shower, do the laundry, wash the dishes or brush your teeth you can re-cycle your grey water efficiently. This works well by moving the hose around the garden to areas that need the water most or by setting up an area to best filter and recycle greywater relying on plants and natural microorganisms to treat the water to a very high standard. See the links below for more great tips on re-using greywater safely.
Storing grey water, all or just part of your greywater can also be stored in a holding tank or bladder. This is most beneficial as you can keep your garden hydrated during the dryer months, drought and ongoing water restrictions. If you are going to store the water then a holding tank and treatment plan is essential or you'll have a stinky tank of water to deal with that isn't safe for use.
What treatment systems are available? There are many systems to choose from, it's best to contact your local Bunnings or other retail outlet to find a solution that works best for your garden needs and location. A grey water system can be installed to re-use the water from just the bathroom or it can be set up to collect water from the bathroom and the laundry where most of the water is used.

Checkout the following links fro more info on greywater re-cycling:
Sydney water, Greywater recycling tips: https://www.sydneywater.com.au/SW/your-home/using-water-wisely/greywater-reuse/index.htm

Better Health VIC, Recycling water at home: https://www.betterhealth.vic.gov.au/health/healthyliving/greywater-recycling-water-at-home

Choice - Guide to grewater systems & safe ways to use greywater: https://www.choice.com.au/home-improvement/water/saving-water/articles/guide-to-greywater-systems

Sustainable Greywater Recycling Tips: https://www.sustainable.com.au/greywater-treatment

Save
Save
Save
Save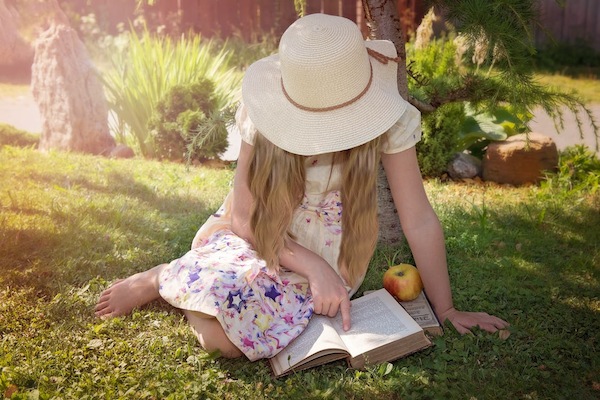 Spring is the best time of year when the sunshine is warm, the breeze is cool and the hum of lawnmowers brings a sense of renewal. Australian homeowners take a great deal of pride in maintaining their gardens, buying seeds, seasonal plants, fertiliser, weed killers, lawn mowers, leaf blowers, whippersnippers, and many other types of equipment in an effort to improve their garden. A healthy summer lawn is achieved with spring maintenance. Winter can alter the soil pH, compacting the soil so firm that water does not pentrate the roots of your lawn. This creates the ideal conditions for growing weeds and fostering disease. The first step is to repair your lawn
Spring Lawn Maintenance
Step 1. Early in the season is the right time to weed, fertilise and mow your lawn in preparation for summer growth. Now is the time to repair your lawn and avoid unwanted weeds taking over. Look for bare soil patches and weeds, remove unwanted plants and prep the bare spots for new summer growth. Preparing your lawn in Spring is the most effective way to achieve a lush green lawn in the summer.
Step 2. There are an array of common problems to look out for, including uneven ground, poor drainage and bare spots. Uneven ground is susceptable to poor drainage, and as a reult your lawn may be at rsik of dehydartion that quickly leads to a poor quality lawn. Target the poor growing areas with a shovel, leveling any areas that are raised or bumpy and flling in those areas with good quality soil and water. 
Step 3. Next check for compacted soil. Using a pitch fork to penetrate the lawn you should be able to easily push the fork in approximately 2 inches. If this is not possible, you wil need loosen the soil with an aerator designed to remove small plugs of soil from your lawn. Once you've finished repairing your lawn, you may need to re-seed parts of the lawn that are brown and patchy.
Step 5. Your local Bunnings should stock Manutec Garden Products Soil pH Test Kit $16.70 or ask Carl to test your lawn for you, this will identify any nutrients that your lawn is lacking. Once you've corrected your soil composition it is important to aerate the ground to avoid any problems, and lookout for soil compaction.
Step 6. Once you've repaired your lawn, soil and re-seeded, don't forget to water regularly! To maintain soil moisture it is best to fertilise with a slow-release low-nitrogen product, and mow your lawn when the grass reaches 3 or 4 inches/ upto 10 cm in height. It's a good idea to only trim half an inch approximately 1-centimeter to avoid stress the plant.
Well established grass requires maintenance. Fertilizers and herbicides are successful in improving the quality of your lawn and paying regula attention to any issues that may lead to an unhealthy looking lawn. But, use chemicals with care as incorrect dose can cause terrible damage to your once perfect lawn.

Save
Save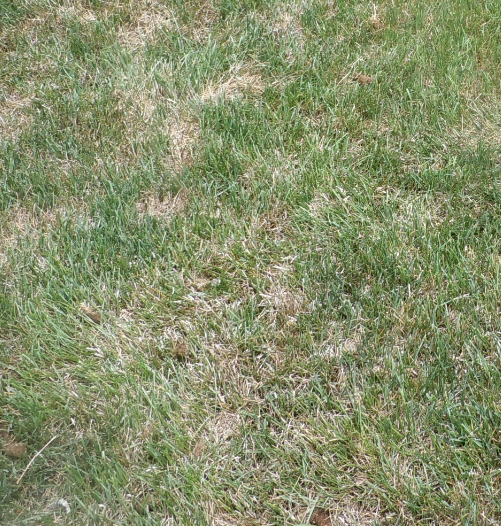 When a lawn looses it's colour this is an indication that something is missing in order to maintain optimal health. So what is missing in your lawn care? The discolouration of a lawn is usually a clear indicator that there is a problem, when a lawn goes into shock this can cause a great deal of damage. It is important to look at the potential problems, the lawn appears to be alive, it's growing slowly, but it's lost it's dark green colour and we know the lawn is just not healthy.
Discolouration can be due to several issues:

Insufficient water
Lack of nutrients
Wrong Ph Levels
Winter
Is your lawn getting enough water?
The lawn may appear wet, but on closer inspection you may identify a water issue. It's a good idea to take a lawn sample and eliminate potential issues in your lawn care regime. Take a shovel and dig out a sample of lawn to check for water retention. If the soil is dry and the lawn roots are brittle then this is a sure indicator that you have a water issue.
How often should you apply a wetting agent?
Twice a year it is recommended that you apply a wetting agent to allow greater distribution of water throughout the lawn, the soil may appear wet, but it's just not getting enough water to maintain optimal lawn health. Wetting agents retain moisture and allow for greater distribution of water thorughout the lawn, maintaining hydration for a longer period of time.
So how can you avoid lawn discolouration?
Planning ahead is the best way to maintain your lawn care. Mid-Autumn is the ideal time to apply fertiliser before the lawn becomes dormant through winter. In winter most lawns will loose some colour, there is not a lot that can be done during the colder months, but as soon as the warmer weather arrives and provided you've fertilised during mid-Autumn, then your lawn will recover quickly.
Save
Save